Did you ever wonder what Janet Jackson looks like without makeup? Janet Jackson is an American singer and is famous for her skills as a singer, songwriter and dancer. Her most famous songs include "What have you done for me lately", "Rhythm Nation", "Escapade" and "If". Lately Janet Jackson has release the song "No Sleep" which is about the longing to reunite with her lover. Enough said, now let us talk makeup.
Actually it is quite difficult to find pictures of Janet Jackson without makeup. She is doing a great job looking her best, indeed on almost every picture of her she is wearing at least some kind of eye makeup or lipstick. What do you think Janet Jackson looks like with no makeup on her face? She may be a natural beauty, but it is hard to deny that she looks even better with makeup on. But what do the star think herself? Well she was once quoted as saying: "I like myself a lot more than I used to. I had a very difficult time in my twenties especially. It was hard for me to look in the mirror and find something that I liked about myself".
Since 2012 Janet Jackson is married to her the business man Wissam Al Mana. Due to her husband being from Qatar she has been somewhat influenced which is noticeable in the picture where you can see Janet Jackson with hijab. Not much of her hair is visible but we normally see her with curly hair. When Janet Jackson was younger it was quite common to see her with red hair. Indeed she likes to experiment with her looks. She has even undergone cosmetic surgery in order to look perfect, which seems to be a theme in the Jackson family.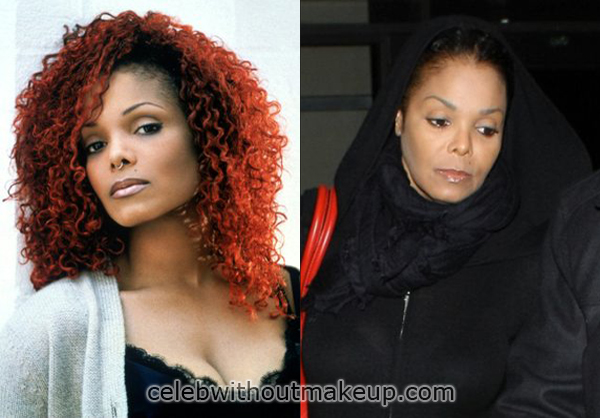 Do you want to get the Janet Jackson makeup look? If so, be sure to get Janet Jackson's eye makeup right. Mascara and lipstick are two very important components of her look. Her makeup artist Preston Meneses helps her shine like a bright star when there is need for it. If you don't have a makeup artist such as Preston Meneses you can check out the Janet Jackson makeup tutorial below to achieve her good looks.